The aerial fleet – Aero Republica
During its opening in June 1993, Aero Republica owned tri-reactors planes of Boeing 727 type. After that, it bought DC-9 and MD (MacDonnell Douglas) airplanes. Finally, the business got more modern with Embraer 190 planes, which is a fabricator from Brazil.

Embraer 190

Embraer is a Brazilian constructor the uses an important place in the commercial plane market. The Embraer 190 is a twin-reactor, placed on each wing, with a capacity of 98 to 114 seats and received its flight certificate in August 2005. Its flight autonomy is 2,400 nautical miles or 4,445km and its cruise speed is 875km/h. Pushed by two CF34-10E General Electric motors of 20,000 pounds of push to assure a good take-off and an efficient cruise speed.

Boeing MD 82/83

MacDonnell Douglas was bought by the American Boeing constructor in 1997. The MD 82 and the MD 83 are twin-reactors stuck on the body with a capacity of 152 to 172 seats and received its flight certificate in August 1980. Its flight autonomy is 2,052nm (3,789km) for the MD 82 and 2,504nm (4,635km) for the MD 83. Its speed is 811km/h. The MD 82/83 are pushed by two JT8D Pratt & Whitney motors with the power of 20,000 to 21,000 pounds.
---
How to get plane tickets and package deals
Communicate with us before deciding anything, because certain ways exist in purchasing plane tickets and also discovering the latest touristic package deals. You can also visit the Website of Aero Republica for more information about the business.
Our personalized visit plan to Cartagena de Indias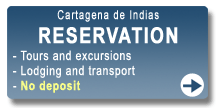 With our personalized visit plan to Cartagena de Indias, you can profit of our privileged partnership with Aero Republica: 8% rebate for personal plane tickets or 15% rebate for groups of 20 people or more al by getting a free ticket.