The Tu Candella disco bar – Cartagena de Indias
By passing through the Carriages place you can discover the discotheque Tu Candella under the arcs of the Portal de los Dulces. This site is really busy by people when the terraces on the place close their dorrs around 1am. After this time, Tu Candella raises its sound to the diabolic music and it's the time to make happy and friendly meetings.

Balconies offer to customers a spectacular vu on the Clock Tower and the interesting sites around. The interior décor is really superb and on two levels, you can have a lot of fun and amusement.
How to see the Tu Candella disco bar?
Our Cartagena city tour or even a nice promenade on a carriage tour allows you seeing the disco bar Tu Candella. A short video is offered to you to see this place with animation.
Your personalized visit plan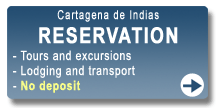 Choose your personalized visit plan for your trips and excursion to Cartagena de Indias. With this way, you'll save time and money without thinking too hard in preparation and organization for your stay.