The Apolo park - Cartagena de Indias
The Apolo park was built in 1994 by the museum del Cabrero in the honour of one hundred years of death of the president Rafael Nunez. Situated close from the house of Rapael Nunez and the Cabrero Retreat, you pass through the park while discovering 9 bronze busts on a marble pedestal: Domingo Bioho, Cacique Carex, Pedro Zapata of Mendoza, Sebastian de Estava, Juan Jose Nieto, Vicente C. Pineres, Miguel A. Caro, Jose Maria Campo, Rafael Nunez and Eduardo Lemaitre.
How to visit the Apolo park?
- City tour
Your personalized visit plan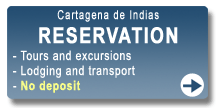 We strongly recommend you to take a personalized visit plan. Our customers really appreciate the fact of being well prepared so they have less stress during their visits, have less intermediate fees that take important commissions, not being harassed by ambulant sellers and being well knowing that we take care of them.