Cartagena day tour to Rosario Islands and Cocoliso
** Spectacular and relaxing day **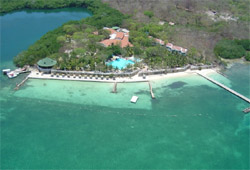 Duration : 9 hours
Departure and return : Los Pegasos dock
Type of transport : Boat Alcatraz or speed boat
---
per person
65 $ us
Lunch : Included
Open bar : 20 $ us
Note : Open bar include national cocktail, soft drink, water. Not included beer,
TOUR INCLUDES
- Transportation hotel to the dock
- Panoramic tour with Alcatraz boat (capacity of 150 and 300 persons)
- Tour guide
- Welcome cocktail
- Lunch at Cocoliso
TOUR EXCLUDES
- Port taxes (7 $ us)
- Aquarium (12 $ us)
- Tips and gratuities
---
Get an extraordinary day of relaxation on the private complex of Cocoliso on the Grande Isla at the Rosario Islands. With a huge pool with bar, a private beach and a site that will make you dream about, the only negative thing is that your day is not enough longer!

Your tour begins by embarking on the large Alcatraz boat with a capacity of more than 150 people or with a speed boat of 50 places belonging to the complex Cocoliso.

On the way to the Rosario Islands, the Alcatraz boat will offer entertaining music and a guide will introduce you to the history of Cartagena. This boat tour is ideal for taking unforgettable pictures of Cartagena!

You will discover several fortresses during this tour as the Fort of San Sebastian del Pastelillo which is located at the famous restaurant Club de Pesca.

Leaving the bay of Cartagena you will pass by the island of Tierrabomba where you can see the fort of San Fernando de Bocachica as well as the San Jose Fort on the other side. These forts controlled the maritime traffic in the bay in order to prevent the inhabitants from possible attacks by pirates.

If you feel like it, you can stay in the complex as the boat heads to San Martin island to visit the aquarium and see a dolphin and shark show. The entrance fee is optional but not included.

A typical Cartagena meal awaits you in the complex's cafeteria during the dinner period.
---
** ($) Paid and optional entries **
Departure from Los Pegasos dock at 8h00 (Port taxes of 15000 pesos)

Passing in front of the San Sebastian de Pastelillo fort

Castillogrande y Laguito

Cartagena bay

Tierrabomba

San Fernando and San Jose forts

Open sea

Cocoliso arrival on the Rosario islands

Welcome cocktail

Optional tour to San Martin island (aquarium $ 25000)

Typical lunch

Swiming pool, beach, relaxation or activities at Cocoliso

Living around 15h30

Open sea

Tierrabomba

Cartagena bay

Back to los Pegasos dock at 17h00
MAP : ROSARIO ISLANDS AND COCOLISO BOAT TOUR
---
** You must go to the Los Pegasos dock **
Please note that the your hotel name of cruise ship name is indicated on the booking ticket.

It is recommended to be at the dock at 7h30 am and pay the port taxes before the entry.

Please reconfirm your booking by email, at least 48 hours before the tour, in order to finalize the details of the meeting point. This is not an obligation, but to make sure that everything is in order.

Please show your booking ticket to the person in charge at the Alcatraz boat door.
---
BOOKING PROCESS
When you want to know more about our tours, our transportation or our company using our quote or booking form, we will answer you within 24 hours in order to receive a quick answer to your requests.

A free booking is then made on your behalf for a period of 5 days while asking you to choose to pay a deposit of 50% or 100% by credit card via Paypal (Editions Melonic).

If after 5 days we have not received your desposit, then we will cancel your booking.

When your payment is received, we will send you by email your booking ticket between 24 and 48 hours to confirm your tour or transportation.

This booking ticket contains in detail all information concerning your tour or transportation as well as the information and contact details of the person in charge of the service in Cartagena.

Please print your booking ticket and show it to the person in charge during your tour or transportation. This ticket is your proof of purchase.

If a final payment is to be paid, then you must give it to the person in charge when you start your tour or transportation.
DATE CHANGE
Once your reservation is confirmed, you will receive a booking ticket with all the information about your tour or transportation, including local contact details, which you can contact if you have any questions or need to change the date.
We will do our best to accommodate your request change free of charge.
CANCELLATION
You may cancel your booking in accordance with certain provisions that do not cause harm to you or to us.
Full refund, if the cancellation occurs more than 5 days before the date of service.
If your claim is less than 5 days before the date of service, we will evaluate your request to ensure that we have no serious prejudice as a loss of customers or expenses incurred by the booking.
TERMS AND CONDITIONS
Your purchase does not guarantee a booking confirmation.
We will confirm you by email, within 48 hours.
Prices may vary according to availability.
We reserve the right to make a price adjustment without notice.
---
&nbsp
---