The Cathedral - Cartagena de Indias
The Cathedral of Cartagena is majestic with a holding beauty. Its construction was started in 1575, but in 1586, when there was only to tour to build, the pirate Francis Drake partially destroyed it. The reconstruction of the building was effectuated between 1598 and 1612 with the adding of many things such as the Florentine styled dome on the top and the addition of marble on the principal face. In the interior, we can admire the architecture of the marble walls and shaped wood constructions. Situated close from the Bolivar park and the Proclamation place.
How to visit the Cathedral?
- City tour
- Carriage center historic tour
Your personalized visit plan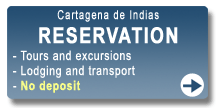 Choose your personalized visit plan for your tours and excursions to Cartagena de Indias. Like that, you'll save time and money without having trouble in organizing and planning your stay.