The Proclamation place - Cartagena de Indias
Situated beside the Bolivar park, the proclamation place was named the Cathedral place during the achievement of the construction of the Cathedral of Cartagena, at the beginning of the XVII century. Then it was named the Cabildo place a couple years later. Then, it was named and re-baptized the palace of the proclamation place on November 11th 1811, a historic day where people reunite to remember to signature of the Independence Act.
How to visit the Proclamation place?
- City tour
- Carriage center historic tour
Your personalized visit plan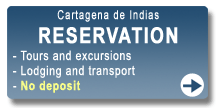 Choose your personalized visit plan for your tours and excursions to Cartagena de Indias. Like that, you'll save time and money without having trouble in organizing and planning your stay.