The Wall - Cartagena de Indias
The old city of Cartagena, its historic center, is rounded by a 4km wall in order to protect the city from attacks made by enemies of the crown and aggressive pirates. We must remember that during the colonial period, Cartagena was considered as the largest port of America and boats leaved with large richness and fabulous treasures to Spain.


The enclosures of the wall were also to separate rich people from poor people that could only come in to go work in the city. The walls are complemented by fortresses on the coast such as the fort San Sebastien del Pastelillo and the fort San Fernando. Between 1595 and 1597, the governor Pedro de Acuna built a belt of walls and ramparts under the plans of Bautista Antonelli in order to give the city a more urban look. However in 1614, under the orders of the
engineer Cristobal de Rada, the walls were remade to arrive, thirty years later, to what we see today with the big thickness of the walls and all around the city. More, Francisco de Murga, was charged of the fortresses of the quarter in front of Getsemani between 1631 and 1633. Finally, in the XVII century, the construction of a dam between the island of Tierrabomba and the point of El Laguito to protect from tides and pirates. Many ramparts can be visited on the wall around the historic center and also in Getsemani.
How to visit the wall of Cartagena?
- City tour
- Carriage center historic tour
Your personalized visit plan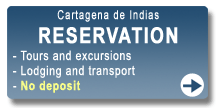 Choose your personalized visit plan for your tours and excursions to Cartagena de Indias. Like that, you'll save time and money without having trouble in organizing and planning your stay.