Personalized reservation plan in Cartagena de Indias
You count on coming or just arrived to Cartagena de Indias in the frame of a business, pleasure or other motive trip and you would love to discover interesting places or make unforgettable excursions according to the time you have? You have searched for information on the city with Internet, publicity leaflets or other media and now you own many information without putting them in order and adjusting them according to your personal intentions and your time. More, you're conscious that many stores or businesses are waiting for you with their prices too high and services without much lovability in order to make considerable benefits without bringing you well-being during your relations and during your chosen visit.
Your personalized visit plan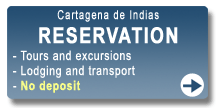 For a better comprehension about a personalized visit plan, we invite you to see the details of the plan and its structure. Each customer is new and each customer has particularly demands, so our visit plan is created in a personalized way for you. The service's and excursion's fees are among the lowest because we have personally met the suppliers, we have used their services as customers ad we have created friendly and responsible relations, nothing has been neglected.
Why a personalized visit plan
One of the large exploitation causes is the fact that people that offer you services and products in Cartagena de Indias aren't those who give you what you desire, but a bunch of mediums that take a percentage of commission at each level and therefore creates fees that people from Cartagena will never pay. More, people live in a big relational poverty that brings a reaction of wanting to profit the most when it comes and to lose customer's precious time with a lack of organization and planning. These problems are constantly lived by visitors, but as a new visitor, you would like to be informed in this subject, no? To avoid this type of situation, you only have to decide what you want to see and do before arriving in Cartagena and therefore save time and money. This saving is seen as a greater number of sites and places to discover and get more pictures and souvenirs to bring back.
---