Cartagena de Indias - Tours and transportation Melonic
Unhappy with the lack of seriousness to respond quickly and effectively?
Worried about paying a deposit to book your tours and transportation in Cartagena?
Embarrassed or afraid of being with strangers!

Many people are like you regarding their tours or transportations in Cartagena and thus waiting to be reached at their destination to decide. Sorry, this is the best way to be fooled, cheated and risking having a disappointing vacation and frustrating mishaps.

Wouldn't you like to receive effective answers in English, book your tours or your transportation in Cartagena without having to pay a deposit in advance and have peace of mind with an affordable private service?
Here is what we have for you:
---
Tired of constantly losing your time with group city tours? Frustrated that you are brought to some shops to make you buying things you don't want ? Exasperated to be abused with high prices for the city tour in Cartagena?
It has been said that Cartagena is a beautiful city with its famous San Felipe Castle and the Popa. Its Historic Center has been classified as Historical and Cultural Heritage of Humanity by Unesco since 1984. But Cartagena is more than that!
What are the sites to visit in Cartagena de Indias that are worth it? Do you want to know the history, the culture and the traditions or to know the tourist traps which only want your money? Here is my list of the 15 best sites you should see in Cartagena.
If you are registered for the IRONMAN Cartagena de Indias 2017 competition on December 3rd or want to attend, choose a travelling management that meets your expectations. Plan your travel logistics to make your stay in Cartagena without worry and enjoyable.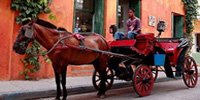 Heat is constantly present and walking over two hours is often grueling and frustrating. However, by walking through the historic center of Cartagena by horse-drawn carriage, you can not only relax, but also take more pictures about the charm of Cartagena.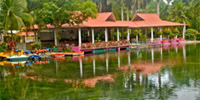 Los Lagos is a privileged place to spend a pleasant, relaxing and entertaining day. Whether you want to be in family, in friends or in couple, this place offers an unforgettable experience and different from the usual tours that are offered to you.
---