5 things to see in Cartagena Colombia
It has been said that Cartagena is a beautiful city with its famous San Felipe Castle and the Popa.

Its Historic Center has been classified as Historical and Cultural Heritage of Humanity by Unesco since 1984. Nearby there is the Totumo volcanoo to take a mud bath as well as the Rosario islands or Playa Blanca with their clear waters!

But Cartagena is more than that!

Here are 5 things to see and that are often forgotten in order to better appreciate Cartagena.
1. Plaza Santo Domingo with its animation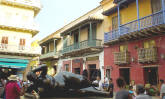 Santo Domingo Square is one of the most popular places in Cartagena de Indias with its many terraces to meet people and have a meal or a drink. It is constantly animated by singers, dancers, sellers or any other entertainment. The place is beautiful with colonial architecture and impressive balconies. A sculpture named "Gertrudis" by the Colombian master Fernando Botero presides over the square just in front of the Santo Domingo church.
2. Plaza Los Coches in the evening
Entering by the Clock Tower, there is the place of the carriages where in the past was, the place where black slaves from Africa were sold. Today, this square is busy at night with many bars and activities. In the center of the square stands the statue of Pedro de Heredia who is the founder of the city of Cartagena de Indias. The place is absolutely remarkable for the beauty of the wooden balconies and colonial architecture.
3. The beach of Blas del Teso with its large space
Just behind the Cartagena airport is the beach of Blas del Teso. A huge, wide and long beach of La Boquilla. Very nice hotels and apartments are also available and the place gives the impression that a new tourist place will take shape. What this place has of particular is the fact that several people come there at night to sit and have a beer or something else.
4. Donde Fidel with his salsa music
When the sunset, the Donde Fidel bar is the place to relax to listen salsa music and have a beer or a beverage. Situated at the junction between the Carriages Square and Custom Square, this place becomes a large outdoor terrace near the wall to enjoy salsa music or dance in the bar of the owner Fidel.
5. Los Lagos with its natural beauty
A fantastic place to spend a relaxing day among the nature is the Los Lagos site located between Cartagena and Turbaco. A large swimming pool is available with beautiful lagoons to contemplate nature. You can even rent a small boat and walk on a lake. The site also offers meals at attractive prices and is very close to th botanic garden.
---
Claude Lasanté