La Boguilla and mangroves - Cartagena de Indias
The beach of la Boquilla is situated at 20 minutes of the historic center of Cartagena right after the airport. This small fisher village is renowned for its fresh seafood and their tours of pirogue in the mangroves at the end of the beach. The beach isn't so spectacular and sometimes not too busy, but the water is sometimes hotter than Bocagrande. Many restaurants on the beach are offered with chairs, straw roofs and hammocks to relax.
How to see La Boguilla and mangroves?
Our Boquilla tour allows you to see this small fisher village and the mangroves. A short video is offered to you to see this place with animation.
Your personalized visit plan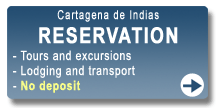 Choose your personalized visit plan for your trips and excursion to Cartagena de Indias. With this way, you'll save time and money without thinking too hard in preparation and organization for your stay.