Welcome to Cartagena de Indias
Millions of people arrive to Cartagena de Indias each year in the frame of their vacations, work, studies and family. It's important to find precise information in the interest domain in order for people to choose with care and justness, the offered services or products from the merchants and businesses without any intermediate sellers. We are a provideers association that offers tours and excursions in order to get the best price without intermediates.
Visit, trip and excursion in Cartagena
Durant During a stay, people have tendency of wanting to know the history of Cartagena and also the interesting places by going through the districts. This walk allows seeing and appreciating the daily life and we strongly suggest you a tourist guide for your visit.
Those who stay a couple of days will certainly want to make tours and excursions in Cartagena in order to pass unforgettable moments and take memorable pictures. Many agencies and sellers propose interesting package deals, but the prices are so high that we invite you to immediately compare the prices with our site.
Lodging during your stay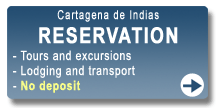 One of the first thing people research is their lodging place. Our selection of apartments or our Cartagena hotels list can satisfy anyone according to certain criteria such as a vu on the beach or close to the port if you arrive from a boat. Those who desire stay in permanence, our selection of real estate will bring you useful information.
Our actualities for Cartagena de Indias
Aires Colombia - A bad tasting air carrier
If you travel by plane with the company Aires Colombia, get prepared and don't expect to receive a quality service because too many problems concerning the customer's service are present. Aires Colombia...
Dental aesthetic in Colombia
The costs and treatments in dental aesthetic are exorbitant for people living in North America or in Europe, but a really advantageous solution exists in Colombia for this type of service. Dental aesthetic in Colombia...
Long term trip: preparing your trip!
Leaving six months discovering Colombia, installing a bridgehead to discover South America is as much a dream as an organisational challenge. Long term trip...
Deluxe cruises at 75% rebate
If you're an experimented traveler in the cruises domain, then you know what it is to be able to cruise at low costs. If you have never cruised. Deluxe cruises at 75% rebate...
Colombians don't have good manners
By receiving hundreds of tourists and by constantly being in contact with Colombians of Cartagena, we see a hurtful observation : Colombians don't know how to live and dislike strangers…
---
Copyright © Editions Melonic - Confidentiality