The bull place - Cartagena de Indias
Bullfights are popular entertainments coming from Spain that has been transmitted to many Latin countries. In Cartagena de Indias, bullfights aren't as popular as in Mexico, but still is something passionate for people. In the quarter 11 of Noviembre, is found the big bull place to see authentic bullfights.

Many cities in Colombia present "corraleja" which are bulls we let run in a cheap wooden arena and people harasses the bulls in exchange of pesos, so we assist to unbelievable pursuits, funny and often hurtful.
How to see the bull place?
Contact us to obtain information on bullfights and we can also go see cooraleja in Turbaco for really special bullfights.
Your personalized visit plan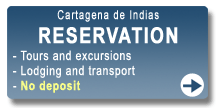 Choose your personalized visit plan for your trips and excursion to Cartagena de Indias. With this way, you'll save time and money without thinking too hard in preparation and organization for your stay.