See rooster fights - Cartagena de Indias
A site of high quality exist in Cartagena de Indias to see rooster fights, it's the arena of the Espanola quarter. A nice place and well taken care of for special entertainment. We also know other places for those that love adventuring in more popular quarters. Evidently, people love winning money over roosters who kill their rivals.
How to see the rooster fights?
Communicate with us directly to assist to rooster fights.
Your personalized visit plan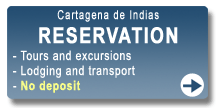 Choose your personalized visit plan for your trips and excursion to Cartagena de Indias. With this way, you'll save time and money without thinking too hard in preparation and organization for your stay.