Were to go out to entertain in Cartagena de Indias?
Situated between Cartagena and Barranquilla, in the village of Piojo, the Totumo volcano has an elevation of only 15 metres and its crater of 3 metres of diameter. A popular belief affirm that its mud has therapeutic or medical proprieties for the skin.

A personalized massage service in mud is offered by the women of the region directly in the volcano in exchange of a couple of pesos. You can also visit the salted water lagoon of Galezaramba to wash yourself and profit of the beach.
How to see the Totumo volcano?
Our tour to the Totumo volcamo allows you seeing the site and the villages around. A small video is offered to you to see this place with animation.
Your personalized visit plan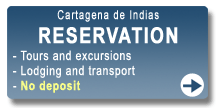 Choose your personalized visit plan for your trips and excursion to Cartagena de Indias. With this way, you'll save time and money without thinking too hard in preparation and organization for your stay.