Caribe hotel of Cartagena de Indias
Situated between Bocagrande and Laguito, the Caribe hotel is one of the most beautiful hotels of Cartagena de Indias. Built in 1941, the hotel has been renovated in 1996 to add a little of modernist. In front of the Bocagrande beach, the Caribe hotel is decorated of the traditional style of Colombia with tropical trees and huge gardens. At the back, a vu on the lagoon is accessible and a large pool brings the ideal place to relax.

The hotel has a colonial style with Spanish arcs and the rooms have really high ceilings. A visit of the hotel is available to appreciate the architecture of the Caribbean.

Each Saturday night, an excellent Mexican buffet is offered with a group of mariachis between 8pm to 9pm. All the basic services of a large hotel are available with even tennis courts, sauna, massage and many complements.

For more information, consult the Caribe hotel Website and we present you a small video directly taken in front of the Caribe hotel in 2009.
An alternative choice – Our hotel partners without commission
Luxury hotels are marvellous places to able receiving high quality services, but standard hotels or smaller ones bring advantageous that others can't offer:
• Friendly and personalized relations
• Lower fees for other complementary services.
• A true recognition and not a fake sincere and pretentious one.
• Honest and familiarly recommendations.
• A more peaceful place and less busy.


Discover our alternative hotels
Your lodging and personalized visit plan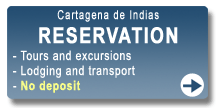 Our personalized visit and lodging plan brings you the mind peace that someone's taking care of your lodging reservations and organization of your choice concerning the places to visit or entertainment to do.