Hotel Cartagena Plaza - Cartagena de Indias
Situated in the sector of Bocagrande, the hotel Cartagena Plaza offers a magnificent vu on the Caribbean Sea. It's in 1993 that the hotel reunited with the hotel Dorado in order to offer a larger customer service, mostly for business congresses, events and meetings. The hotel owns 311 rooms divided in three categories such as standard rooms, suites and junior suites. All the rooms have air conditioning, cable TV, a minibar, room service, telephone and Internet.

Many other facilities are available and a pool is also accessible. Before making a hotel reservation, we suggest you to visit the Website of the hotel Dorado Plaza which offer really advantageous prices in promotion as well as the hotel Isla Arena Club and the hotel San Felipe.

You'll have the choice with the 6 restaurants of the hotel Cartagena Plaza that are at the card of buffet style. The hotel personal is really thoughtful and extremely devoted to satisfy the clientele. Finally, many activities are proposed to satisfy any tastes and particular demands of the customers.
An alternative choice – Our hotel partners without commission
Our lodging and personalized visit plan will bring the mind peace that someone is taking care of you and your lodging reservations as well as the organization of your choices concerning the places to visit or the entertainment to do.
Your lodging and personalized visit plan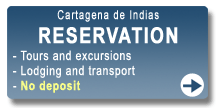 Our personalized visit and lodging plan brings you the mind peace that someone's taking care of your lodging reservations and organization of your choice concerning the places to visit or entertainment to do.