Las Bovedas - Cartagena de Indias
If you visit the sector of San Diego, your visit is incomplete if you don't go see the famous Bovedas. Situated between the ramparts of Santa Clara and Santa Catalina, it counts 47 arches and 23 vaults. This construction was built between 1792 and 1798 in the last colonial period. During this period and the first independence years, Las Bovedas were used as prisons.
How to visit the Las Bovedas?
- City tour
- Carriage center historic tour
Your personalized visit plan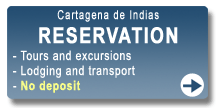 Choose your personalized visit plan for your tours and excursions to Cartagena de Indias. Like that, you'll save time and money without having trouble in organizing and planning your stay.