The Century park - Cartagena de Indias
Located beside the Martyrs place in Getsemani, century park is an ideal place to relax with its gardens, fountains and welcoming shadows to protect from the sun. Sometimes we can see enormous iguanas walking.
How to visit the Century park?
- Cartagena city tour
Your personalized visit plan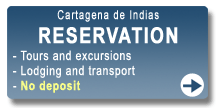 We strongly recommend you to take a personalized visit plan. Our customers really appreciate the fact of being well prepared so they have less stress during their visits, have less intermediate fees that take important commissions, not being harassed by ambulant sellers and being well knowing that we take care of them.