The Circo theatre - Cartagena de Indias
Situated in San Diego in the historic center, this ancient theatre is now an abandoned building. Built in the beginning of the XX century, this site was used for bull fights coming from Spain and Mexico. No entries are allowed today for security reasons.
How to visit the Circo theatre?
- Cartagena city tour
- Carriage center historic tour
Your personalized visit plan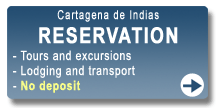 We strongly recommend you to take a personalized visit plan. Our customers really appreciate the fact of being well prepared so they have less stress during their visits, have less intermediate fees that take important commissions, not being harassed by ambulant sellers and being well knowing that we take care of them.