The Public Clock Tower - Cartagena de Indias
The principal entrance of the old city of Cartagena de Indias is made by the tour of the Public Clock. At first, the clock tour had only one arch to enter, the middle one. Originally, the door had a weapon room and a chapel in the interior and was replaced by two other arches in the XVIII century. This construction was largely damaged during an enemy invasion.


Still today, in this magnificent work, we can see in the central arch the marks and pendulum emplacements of the old clock which, in 1888, was replaced by the actual one and received the name of Torre del Reloj (Clock Towerr). The exterior appearance of the tour at its central arch, has a Toscana style door and the interior side is really severe. This place is an important place to take pictures and start a visit in the historic center of Cartagena de Indias.
How to visit the Public Clock?
- Cartagena city tour
Your personalized visit plan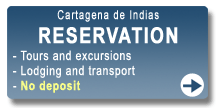 Choose your personalized visit plan for your tours and excursions to Cartagena de Indias. Like that, you'll save time and money without having trouble in organizing and planning your stay.