The Conventions Center - Cartagena de Indias
Built in 1980, the Conventions Center of Cartagena is one of jewel of America because it's made with coralline rocks, the same material as the buildings of the historic center. It is used for congresses, music shows, as theatre and important events. Situated on the edge of the Wall of Cartagena and the town hall and the other side is the Martyr's place of Getsemani.
How to visit the Conventions Center?
- Cartagena city tour
Your personalized visit plan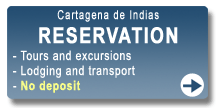 We strongly recommend you to take a personalized visit plan. Our customers really appreciate the fact of being well prepared so they have less stress during their visits, have less intermediate fees that take important commissions, not being harassed by ambulant sellers and being well knowing that we take care of them.