The gardens of Cartagena - Cartagena de Indias
At about 20 minutes from the historic center of Cartagena, is found the gardens of Cartagena which is by the way a large cemetery situated in the quarter of El Recreo. What this site has so particularly is the impressive amount of flowers and colours that creates an incomparable beauty of the cemetery.

Sundays are really busy days and people bring flowers in big number for their dead ones.
How to visit the gardens of Cartagena?
- City tour
Your personalized visit plan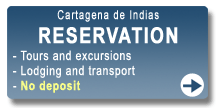 We strongly recommend you to take a personalized visit plan. Our customers really appreciate the fact of being well prepared so they have less stress during their visits, have less intermediate fees that take important commissions, not being harassed by ambulant sellers and being well knowing that we take care of them.