The museum of gold - Cartagena de Indias
On the other side of the Bolivar park close from the Cathedral, is found the golden museum of colonial construction resembling at a small mansion. This museum presents gold jewelry with precious rocks of the region and well represents the culture of Sinu, which is a group that's present in the States of Corboda, Sucre, Bolivar and Antioquia. With presented models, we can see the social organization, their hydraulic work and the perfection of golden pieces.
How to visit the museum of gold?
- City tour
- Carriage center historic tour
Your personalized visit plan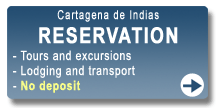 Choose your personalized visit plan for your tours and excursions to Cartagena de Indias. Like that, you'll save time and money without having trouble in organizing and planning your stay.