The Pedro Heredia theatre - Cartagena de Indias
The Heredia theatre was built in 1911 to remember the independence of Cartagena de Indias and was restored in 1998. The stairs and sculptures that decorate the theatre are in Italian marble and on the ceiling, we can observe at an artwork from the artiste Enrique Grau, from Cartagena.

The theatre has a horseshoe shape with loges and balconies that were used before for ventilation.
How to visit the Pedro Heredia theatre?
- City tour
- Carriage center historic tour
Your personalized visit plan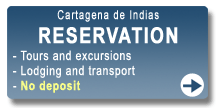 Choose your personalized visit plan for your tours and excursions to Cartagena de Indias. Like that, you'll save time and money without having trouble in organizing and planning your stay.