The Inquisition palace - Cartagena de Indias
Situated around the Bolivar park, the inquisition palace is magnificent with its baroque style and its splendid wooden balconies. This important construction was finished in 1776 and is the principal evidence of the power that was given to Santo Oficio, which was in vigour before the independence in 1896.

The documents and tribunal archives that were conserved were burnt and the inquisitors were then deported. The first Fate Act was exactly executed at this place in the Bolivar park, so in the inquisition place, February 2nd 1641.
How to visit the Inquisition palace?
- City tour
- Carriage center historic tour
Your personalized visit plan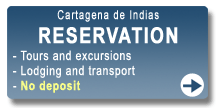 Choose your personalized visit plan for your tours and excursions to Cartagena de Indias. Like that, you'll save time and money without having trouble in organizing and planning your stay.