The convent of la Popa - Cartagena de Indias
The convent of la Candelaria or la Popa is situated on a small mountain that offers a spectacular vu on Cartagena de Indias. With a height of 145 meters, la Popa stays the most important reference point when arriving in Cartagena. The mountain was named like this by navigators because it looked like an embarkation.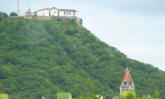 The construction of the convent was started on 1606 to refuge blacks and the promotion of la Popa was made by the Father Alonso Garcia Paredes de la Cruz. He searched for an image of the Virgin of Candelaria in a
house of the city and received a divine message to elevate a sanctuary in its honour. Each year, February 2nd, faithful ones rememorize its memory by climbing the mountain for this occasion, la Popa has many golden lights and emerald colours. The museum of the convent owns sacred art pieces allowing discovering historic treasures.
How to visit the convent of la Popa?
- Cartagena city tour
Your personalized visit plan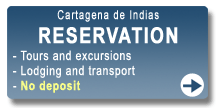 Choose your personalized visit plan for your tours and excursions to Cartagena de Indias. Like that, you'll save time and money without having trouble in organizing and planning your stay.