The San Pedro Claver church - Cartagena de Indias
The construction of the monastery and the San Pedro Claver church were launched in the XVII century the Jesuits and originally, was named San Ignacio de Loyola. The face of the church is made, like most of the buildings of the old city, with coralline rocks which are famous in this region. From 1888, the church was restored and in 1921 was added the present chapel that is an important reference point from many points of the city and even the sea.


The interesting things to discover are the museums with fabulous artworks and the cloister is filled of enormous trees. The name of San Pedro Claver is the name of the great defender for the rights of slaves and a statue was sculpted by the artiste Enrique Grau in the honour of the Saints. The rests of San Pedro Claver are conserved in an urn at the top of the church that was named the Apostle of the Blacks. We can visit his room that is situated close the stairs that head to the monastery, which is presently the chapel. A visit at the San Pedro Claver church is required to those who appreciate the history of the Cartagena de Indias.
How to visit the San Pedro Claver church?
- City tour
- Carriage center historic tour
Your personalized visit plan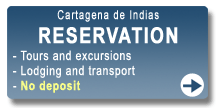 Choose your personalized visit plan for your tours and excursions to Cartagena de Indias. Like that, you'll save time and money without having trouble in organizing and planning your stay.