The house of Simon Bolivar - Cartagena de Indias
Real close from the convent of San Augustin, is found the first house where lived Simon Bolivar, the liberator. A colonial style house that was restored with archaeological pieces where we give conferences. In the library, we can find documents that were used for the Bolivar campaigns.
How to visit the house of Simon Bolivar?
- Cartagena city tour
- Carriage center historic tour
Your personalized visit plan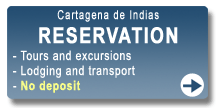 We strongly recommend you to take a personalized visit plan. Our customers really appreciate the fact of being well prepared so they have less stress during their visits, have less intermediate fees that take important commissions, not being harassed by ambulant sellers and being well knowing that we take care of them.