The house Marqués de Valdehoyos - Cartagena de Indias
Before arriving at the Wall by the Factoria street, you can see an excellent example of an aristocrat house, whether the house Marqués de Valdehoyos, which shows the well living of a ancient colonial noble with its salons, decks and magnificent gardens. This house was built in the XVII century by the marquis of Valdahoyos which had the privilege of importing slaves and flour..
How to visit the house Marqués de Valdehoyos?
- Cartagena city tour
- Carriage center historic tour
Your personalized visit plan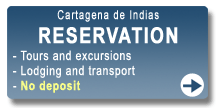 We strongly recommend you to take a personalized visit plan. Our customers really appreciate the fact of being well prepared so they have less stress during their visits, have less intermediate fees that take important commissions, not being harassed by ambulant sellers and being well knowing that we take care of them.