Cartagena to Mompox - Private transportation
** Also applicable from Mompox to Cartagena **
Duration : 5 hours 15 minutes
Departure : Cartagena
Destination : Mompox
---
HOW MANY

ARE YOU?

PRICE PER

VEHICULE

1-4
260 $ us
5-8
312 $ us
9-11
374 $ us
12 persons or more : Call us
TRANSPORTATION INCLUDES
- Private transportation
- Vehicle with air conditionning
- One baggage per person, if possible
TRANSPORTATION EXCLUDES
- Food and beverages
- Tips and gratuities
---
Probably you have already heard that the road to Santa Cruz de Mompos is difficult, complicated, and you are right with all the missing indications concerning many roads and villages.

Located in a large wetland and the largest freshwater island in South America, Mompox is 320 kilometers (250 km by Magangue) in the southeast of Cartagena along the Magdalena River. Secluded city, but has retained this jewel of colonial architecture and is listed as a UNESCO World Heritage Site.

Two roads are accessible to get there, when we arrive at El Carmen de Bolivar. Depending on the climatic conditions, we use the Plato road, instead of Magangue road and its ferry. However, a bridge is currently under construction in Magangue to facilitate a new access.

Our private transportation service takes you directly and safely to Mompox by the most accessible route of the moment and our vehicles are air-conditioned to get the necessary comfort during this 5 hours and 15 minutes ride.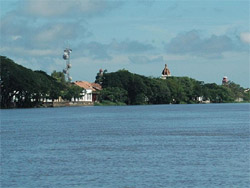 ---
Departure from Cartagena

Turbana

Gambote bridge over Dique channel

San Juan de Nepomuceno

San Jacinto

El Carmen de Bolivar

Plato bridge

Santa Ana

Arrival at Mompox
ITINERARY MAP
---
** Meeting point must be well indicated **
Please note that your destination, arrival date time, flight number and flight company are indicated on the booking ticket.

Your name will be written on a board after the last check point at the airport.

Please show your booking ticket to the driver or guide before the transportation or tour service.
---
BOOKING PROCESS
When you want to know more about our tours, our transportation or our company using our quote or booking form, we will answer you within 24 hours in order to receive a quick answer to your requests.

A free booking is then made on your behalf for a period of 5 days while asking you to choose to pay a deposit of 50% or 100% by credit card via Paypal (Editions Melonic).

If after 5 days we have not received your desposit, then we will cancel your booking.

When your payment is received, we will send you by email your booking ticket between 24 and 48 hours to confirm your tour or transportation.

This booking ticket contains in detail all information concerning your tour or transportation as well as the information and contact details of the person in charge of the service in Cartagena.

Please print your booking ticket and show it to the person in charge during your tour or transportation. This ticket is your proof of purchase.

If a final payment is to be paid, then you must give it to the person in charge when you start your tour or transportation.
DATE CHANGE
Once your reservation is confirmed, you will receive a booking ticket with all the information about your tour or transportation, including local contact details, which you can contact if you have any questions or need to change the date.
We will do our best to accommodate your request change free of charge.
CANCELLATION
You may cancel your booking in accordance with certain provisions that do not cause harm to you or to us.
Full refund, if the cancellation occurs more than 5 days before the date of service.
If your claim is less than 5 days before the date of service, we will evaluate your request to ensure that we have no serious prejudice as a loss of customers or expenses incurred by the booking.
TERMS AND CONDITIONS
Your purchase does not guarantee a booking confirmation.
We will confirm you by email, within 48 hours.
Prices may vary according to availability.
We reserve the right to make a price adjustment without notice.
---