The beach of Blas el Teso - Cartagena de Indias
Right after the airport of cartegena, is found the beach of Blas el Teso. An enormous beach, large and long from La Boquilla. Really nice hotels and apartments are also available and the site gives the impression that a new touristic place takes form.

What this place has particular is that many people come at night to sit and have a beer or other drink. The restaurant Blas el Teso is also a renowned place for its seafood and interesting fees.
How to see the beach of Blas el Teso?
Our Cartagena city tour allows you to see the beach of Blas el Teso. A short video is offered to you to see this place with animation..
Your personalized visit plan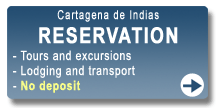 Choose your personalized visit plan for your trips and excursion to Cartagena de Indias. With this way, you'll save time and money without thinking too hard in preparation and organization for your stay.