Los Lagos near Turbaco – Cartagena de Indias
A fantastic place to pass a relaxing day and amongst nature is the Los Lagos situated between Cartagena and Turbaco. A large pool is available with magnificent lagoons to look at nature. We can even rent a small embarkation to go on a lake. The site also offers meals at interesting prices and is close to a botanic garden.
Los Lagos Tour
Interests : Nature - Relaxation - Nice place - Swimming pool
Departure/return : Hotel
Type of transport : Vehicle
23 $ US (with entry and lunch)
---
Your personalized visit plan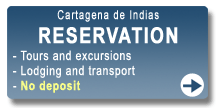 Choose your personalized visit plan for your trips and excursion to Cartagena de Indias. With this way, you'll save time and money without thinking too hard in preparation and organization for your stay.