The disco bar Mister Babilla - Cartagena de Indias
Located on the Arsenal street close to the Conventions Center in the quarter of Getsemani, the discotheque Mister Babilla is the preferred place of people having a certain financial ease. A cover is ask to enter and this place is magnificent all by having a high security for people.

This place is mostly visited by cute Colombians and people with a friendly humour. A must for people who like dancing and have a drink in a healthy ambiance and not too young.
How to see the disco bar Mister Babilla?
Our Cartagena city tour or as well as a promenade on a carriage allows you seeing the Mister Babilla disco bar. A short video is offered to you to see this place with animation.
Your personalized visit plan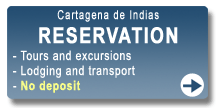 Choose your personalized visit plan for your trips and excursion to Cartagena de Indias. With this way, you'll save time and money without thinking too hard in preparation and organization for your stay.