Playa Blanca on Baru Island - Cartagena de Indias
In direction to Rosario Islands, we pass beside the island of Baru where is found one of most beautiful beach of Cartagena de Indias which is Playa Blanca. A trip on a speed boat brings to this place in around 35 minutes and this site is ideal for those practicing ecotourism. The beach is really long with clear water and has really soft white sand. It's difficult to find lodging for the night, but the Decameron is building a hotel that can welcome 300 people and will be done at the end of 2009.
How to see Playa Blanca on Baru Island?
Our Playa Blanca boat tour can allow you seeing Playa Blanca, Baru island. A small video is offered to you to see this place with animation.
Your personalized visit plan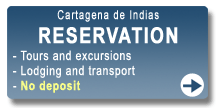 Choose your personalized visit plan for your trips and excursion to Cartagena de Indias. With this way, you'll save time and money without thinking too hard in preparation and organization for your stay.