The San Diego place - Cartagena de Indias
Situated in the quarter of San Diego in the historic center, the place San Diego is a relaxing place where people can taste and drink on a terrace less busy in comparison with the Santo Domingo place. The hotel Santa Clara is located in this place and offers a high quality lodging service.

We also find the superior school of Beaux-Arts in the old convent constructions which were built in 1608.
How to see the San Diego place?
Our Cartagena city tour or as well as a promenade on a carriage allows you seeing the San-Diego place. A short video is offered to you to see this place with animation..
Your personalized visit plan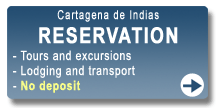 Choose your personalized visit plan for your trips and excursion to Cartagena de Indias. With this way, you'll save time and money without thinking too hard in preparation and organization for your stay.