The Santo Domingo place - Cartagena de Indias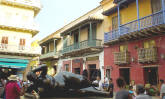 One of the most popular places in Cartagena de Indias to meet people and take a meal or drink is certainly the place Santo Domingo. This place is constantly animated with singers, dancers, sellers or other ambulant services. Terraces and bars are numerous and people come here to relax, entertain or see people. Everything stops at 1am and many direct themselves to the Carriages place or mostly to the Santa Teresa place to continue the evening.

The place is magnificent with a colonial architecture and impressive balconies. A sculpture named "Gertrudis" from the Colombian master Fernando Botero lies on the place right in front of the Santo Domingo church. According to popular beliefs, by touching the breasts of this large women, people will have long loving relations. In the XVII century, this place was used for executions during inquisitions.
How to see the Santo Domingo place?
Our Cartagena city tour or as well as a promenade on a carriage allows you seeing the Santo Domingo place. A short video is offered to you to see this place with animation..
Your personalized visit plan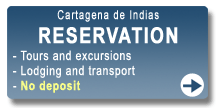 Choose your personalized visit plan for your trips and excursion to Cartagena de Indias. With this way, you'll save time and money without thinking too hard in preparation and organization for your stay.