The Santo Domingo church - Cartagena de Indias
The oldest conserved building of Cartagena is the Santo Domingo church, because its construction was built in the years 1550-1560. During its construction, they remarked that the cement wasn't solid enough to support the walls and that could bring risks of collapsing. To remedy to this problem, they built a counter-wall that was disposed on the other side of the street where we can see the supports.

Inside the church, we can remark the big interest for the Virgin that is decorated of a golden crown with emeralds. Also the large height of Santo Cristo de la Expiracion that had a large devotion
and accomplished miracles. Also present, the formation center of Spain that organized conferences and diverse seminaries with a library. One of the most animated places of the city is found in front of this church, whether the Santo Domingo place which is somewhere to see at day and night.
How to visit the Santo Domingo church?
- City tour
- Carriage center historic tour
Your personalized visit plan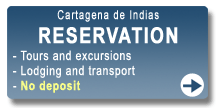 Choose your personalized visit plan for your tours and excursions to Cartagena de Indias. Like that, you'll save time and money without having trouble in organizing and planning your stay.