The Santa Teresa place - Cartagena de Indias
Just in front of Charleston hotel, is found the place Santa Teresa which is often animated by musicians at the exterior of the restaurant of Charleston hotel. On the place in front of the museum Naval, we can entertain really late to small hours of the night because vallenatos and sellers are constantly at the place to continue the evening.

The rampart of San Francisco Javier is also an interesting site at the top of the wall and often, parties are given during weekends. Beside the hotel, we discover a popular discotheque, whether the Babar. Finally, many carriage tours can be started from the Santa Teresa place. On the place, you can visit the Naval museum and the Weapons place.
How to see the Santa Teresa place?
Our Cartagena city tour or as well as a promenade on a carriage allows you seeing the Santa Teresa place. A short video is offered to you to see this place with animation..
Your personalized visit plan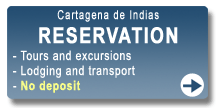 Choose your personalized visit plan for your trips and excursion to Cartagena de Indias. With this way, you'll save time and money without thinking too hard in preparation and organization for your stay.