The naval museum - Cartagena de Indias
From the San Pedro Claver church, we use the San Juan de Dios street to arrive at the Santa Teresa place where is found the Naval museum. This museum was made to underline the 500th year of discovery of America. The building used to have a military site and it conserves ancient elements such as galleries that bring us to a balcony and a salon for particular events. The Santa Teresa place was anciently a convent that was made in 1609, but it was transformed into a luxury hotel, whether the Charleston hotel. Just behind outside of the wall is found the Weapons place with its canons and artillery in exposition.
How to visit the naval museum?
- City tour
- Carriage center historic tour
Your personalized visit plan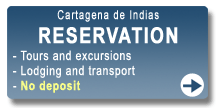 Choose your personalized visit plan for your tours and excursions to Cartagena de Indias. Like that, you'll save time and money without having trouble in organizing and planning your stay.