The carriage place - Cartagena de Indias
By entering the Public Clock Tower, is found the carriage place where in the past, were dealt the black slaves coming from Africa. Today, this place is the meeting site of the horse carriages to have a promenade in the historic center of the city. The Portal of Los Dulces is also found close from this place.

In the center of the place is found the statue of Pedro de Heredia
which is the founder of the city Cartagena de Indias. This place is absolutely remarkable with the beauty of the wooden balconies with delicious colours and colonial architectures. The carriage place is sites filled of animation in the day as well as at night and many clubs and bars are located close from it.
How to visit the carriage place?
- City tour
- Carriage center historic tour
Your personalized visit plan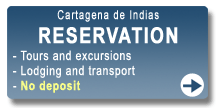 Choose your personalized visit plan for your tours and excursions to Cartagena de Indias. Like that, you'll save time and money without having trouble in organizing and planning your stay.