The Candies Portal - Cartagena de Indias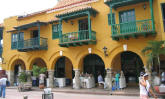 On the Carriages place, we find the famous Candies Portal. This portal, that has a spectacular vu on the Public Clock, hasn't always been named like this, because at the colonial time, it was named the Portal of the Judge and when they decided to sell the slaves, then this portal received the name Portal of the Slaves. At the end of the XIX century, the mayor decided that this site was the one of the carriages that could park in front of the Portal de los Dulces.
How to visit the Candies Portal?
- Cartagena city tour
- Carriage center historic tour
Your personalized visit plan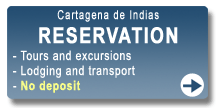 We strongly recommend you to take a personalized visit plan. Our customers really appreciate the fact of being well prepared so they have less stress during their visits, have less intermediate fees that take important commissions, not being harassed by ambulant sellers and being well knowing that we take care of them.