Selva Negra of Turbaco – Cartagena de Indias
Selva Negra is an ideal place to pass a day with a family and is situated close from Los Lagos of Turbaco. There's a large pool, huts and hammocks, long chairs to relax, an air conditioned room, green spaces, etc. This restaurant is specialized in food products coming from Germany because the owner is from there. The menu includes salads, grills, soups and rice plates with fruit products on place with organic fertilizers. A place with a healthy and relaxing ambiance for social activities or affair meetings.
How to see Selva Negra near Turbaco?
Communicate with us to go see Selva Negra near the village of Turbaco.
Your personalized visit plan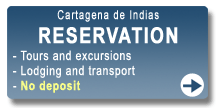 Choose your personalized visit plan for your trips and excursion to Cartagena de Indias. With this way, you'll save time and money without thinking too hard in preparation and organization for your stay.