The place of the Customs - Cartagena de Indias
The place of the Customs is the largest place and also the most beautiful place in architecture, in colour and in places to see. In the center, the statue of Christophe Colomb has a privileged place. The name of this place comes from an ancient customs house during the colonial period, but in our days, is occupied by the building of the mayor or Alcadia de Cartagena.
How to visit the place of the Customs?
- City tour
- Carriage center historic tour
Your personalized visit plan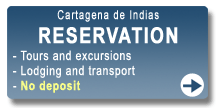 Choose your personalized visit plan for your tours and excursions to Cartagena de Indias. Like that, you'll save time and money without having trouble in organizing and planning your stay.