The mayor or Alcadia place - Cartagena de Indias
The mayor or Alcadia place uses a large piece of the customs place and is situated on the wall with a door that directly communicates with the deck on the other side. Built in 1622 by Cristobal de Roda, the first level is built with identical arches and was used to receive deposits while the second level was used for the treasury, accountings and where the employees lived. The other buildings built with the mayor building are also lied on the wall such as the modern arts museum right beside.
How to visit the mayor or Alcadia place?
- City tour
- Carriage center historic tour
Your personalized visit plan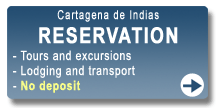 Choose your personalized visit plan for your tours and excursions to Cartagena de Indias. Like that, you'll save time and money without having trouble in organizing and planning your stay.