The modern arts museum - Cartagena de Indias
The extension of the Mayor's building brings us at the San Pedro Claver church where is found the modern arts museum. The artworks are pictograms and artistic sculptures principally created by Colombian guardians. The artwork exposition lies till outside in a permanent way and present to us creations with railroads, which are art pieces from the artiste Carmona.
How to visit the modern arts museum?
- City tour
- Carriage center historic tour
Your personalized visit plan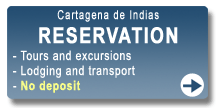 Choose your personalized visit plan for your tours and excursions to Cartagena de Indias. Like that, you'll save time and money without having trouble in organizing and planning your stay.