The monument of the old boots - Cartagena de Indias
By turning around the San Felipe Castle, we discover one of the most original monuments whether the one about the old boots. Two enormous boots in bronze are placed in the honour of a poet from Cartagena, Luis Carlos Lopez, author of a famous composition.
How to visit the monument of the old boots?
- Cartagena city tour
Your personalized visit plan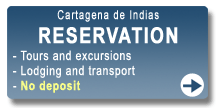 We strongly recommend you to take a personalized visit plan. Our customers really appreciate the fact of being well prepared so they have less stress during their visits, have less intermediate fees that take important commissions, not being harassed by ambulant sellers and being well knowing that we take care of them.