The castle of San Felipe de Baraja - Cartagena de Indias
Situated on the peak of the San Lazaro hill, this ancient military complex is the largest built in America. It was built on a strategic place in order to observe the invasions in the city by earth or on the Bay of Cartagena. Its construction started in 1536 and done in 1657, so a bit more than a century of work. The castle received the name of San Felipe in the honour of the sovereign. With a triangular shape, it owns four control stations and eight canons.


The castle resisted at many assaults, specially the city attack in 1741 by the English troop of the admiral Vernon and was taken only once, whether in 1697 by the French commander De Pointis. In 1762, a decision was taken to reinforce the San Felipe defence to protect from war attacks with English. However, the military engineer, Antonio de Arevalo, was responsible to convert the castle in an untouchable fortress. So, 63 canons were installed and a high axed wall which was impossible to climb. In the interior, many tunnels, galleries, descents and mines to destroy it if the castle was taken by the enemy. Finally, the castle was abandoned and restored in 1928. A statue of the general commander Don Blas de Lezo is situated at the entrance to underline the defense of Cartagena during the Vernon attack in 1741. Another monument is situated at the base of the castle, whether the one of the Old Boots.
How to visit the San Felipe castle?
- Cartagena city tour
Your personalized visit plan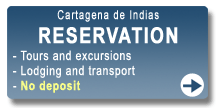 Choose your personalized visit plan for your tours and excursions to Cartagena de Indias. Like that, you'll save time and money without having trouble in organizing and planning your stay.