The house Marqués de Premio Real - Cartagena de Indias
On the Customs place, we find architectural constructions from the colonial time such as the house Marqués de Premio Real, a typical colonial beauty from the XVIII century. During the colonial period, this large space was occupied for diverse administrative occupations of the city of Cartagena and the house of Pedro Heredia, the founder, was also situated on the place of la Douane.
How to visit the house Marqués de Premio Real?
- Cartagena city tour
- Carriage center historic tour
Your personalized visit plan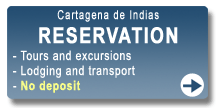 We strongly recommend you to take a personalized visit plan. Our customers really appreciate the fact of being well prepared so they have less stress during their visits, have less intermediate fees that take important commissions, not being harassed by ambulant sellers and being well knowing that we take care of them.