Convent of San Francisco - Cartagena de Indias
Situated on the other side of the Chemin des Martyres, so close to the Conventions Center of Cartagena, the convent or church of San Francisco is now a small commercial center where many activities happen since its position in Getsemani.

The construction of this convent or monastery was realized in 1555 by Fray Pedro of Iglesia, but in 1559, French pirates destroyed it and was abandoned by the religious, it's only in 1560 that this convent was finished. This site was also a link for inquisitors that arrived in Cartagena in 1610.
How to visit the Convent or church of San Francisco?
- Cartagena city tour
Your personalized visit plan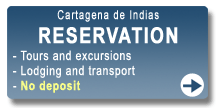 We strongly recommend you to take a personalized visit plan. Our customers really appreciate the fact of being well prepared so they have less stress during their visits, have less intermediate fees that take important commissions, not being harassed by ambulant sellers and being well knowing that we take care of them.